About
Right from the start, with Civilising Caliban, the published half of my doctoral thesis about  showing paintings to the poor  that was not weighed down by academic argument, I have come at art with a conviction of its relevance to society.
I have also come at it with a kind of built-in scepticism. That art is beautiful and stimulating , I have no doubt . But what worries me is when it is claimed to be good for us or its appreciation seen as a mark of our sensitivity.I think of art as a language that once learned can tell us a lot about the time in which it was made.
I  wrote my  thesis because it seemed incredible that a nineteenth century cleric could believe that paintings had the power to civilise his community of London's poorest. Yet that is what he did believe and his ideas were exported round the world. I still don't know whether he was right, though I know there are many today who still believe that art is 'good for you'.
I realise that lots of things that bother me about life have fed into the books I have written about art. A concern with the built in unfairness that faces many social groups and a fascination with those who succeed against the odds has  directed my subjects, from the education of the women artists of the past to the ways they found to speak out about themselves through their self portraits in societies which valued modesty as a female virtue .
My latest book, The Naked Nude, is an attempt to account for the discrepancy on gallery walls between the traditional idea of the nude as the pinnacle of artistic beauty and the uncomfortable reality of  art's nudes today, all lumps and bumps and pubic hair. No longer sanitised, they cause the viewer anger and embarrassment.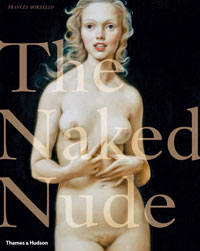 The Naked Nude
This book grew slowly.  In 1994, the exhibition of Jenny Saville's huge nude women – huge in terms of painting size and the women's generous flesh — impressed me as introducing a completely new kind of nude to art.In 2008, Australian radio asked me to revalue Kenneth Clark's The Nude of 1956 in which he said the nude was a category cleaned up for art.  And then there was the feminist interest in the tyranny of the perfect body. These were just some of the things that led me to write about the way Clark's definition of the nude was no longer relevant.
'Frances Borzello has produced a thoughtful, highly intelligent book, tracking the newly frank, newly naked nude.' SW, RA Magazine, winter 2012
'..Borzello brilliantly updates the evasively genteel distinction between naked and nude made by Kenneth Clark in 1956, exposing the new qualms of conscience that have emerged in our own frnker but more scrupulous era. Borzello's illustrations are titillating, embarrassing and sometimes outright disgusting: here we find art holding a mirror up to our troublesome human nature and showing us who we are, genitals and all.' Peter Conrad, The Observer, Dec. 2 2012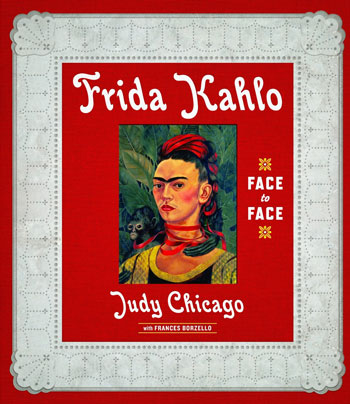 Frida Kahlo: Face to Face
I have known Judy Chicago for years, so when she asked me to collaborate on a book about the Mexican artist Frida Kahlo, I could not resist. This very beautiful book was conceived as a conversation between two artistic icons of different generations, Judy Chicago and Frida Kahlo, as the first in a series called Face to Face, so of course the book was 'Judy's'. Each one of the hundred Kahlo paintings was given its own spread with a commentary. My role was to have a dialogue with Judy, our sometimes differing views suggesting different ways of looking at the images.
'Consisting of an introduction, two essays (one by Chicago and one by Borzello), and full-colour reproductions of Kahlo's most significant works, the book warmly welcomes readers into a dialogue between the two authors. Commentaries from both writers accompany each painting, calling to mind the format of the Mexican retablo (altarpiece) that, as Chicago and Borzello adeptly explain, proved to be a valuable sorce of inspiration for Kahlo throughout her career.' Rebecca Park, Women in the Arts, magazine of the National Museum of Women in the Arts, autumn 2010